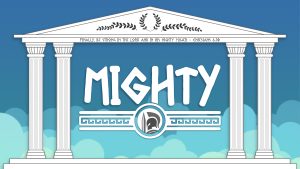 Increase Kids Conference is where we have an amazing time together with lots of games, crafts, and fun things planned, but most importantly - it's a really powerful time just for kids.
Having time to worship together, learn about God, and really take some big steps forward in their faith journey.
Our theme for this year is MIGHTY and is all about learning how to become mighty men and women of God. We're looking at how to equip ourselves for the long run so we are able to have a strong faith and stand boldly in God's mighty power!
We also have our very own guest speakers - Harry and Annaliese Slade - who are incredible at teaching and ministering to kids and this is one weekend your kids won't want to miss.
Preschoolers
Our preschool children will enjoy loads of fun with playtime, crafts and activities. Our wonderful Shalom Kindergarten facility will keep them well entertained with its awesome outside playground!